HDPE Rod or to give it its full name, High Density Polyethylene Rod is one of the general purpose engineering plastics that has become a very popular material.
HDPE Rod All round Performer
We wouldn't say HDPE Rod is fantastic at anything but its very good at a lot of things and its the combination which makes it a strong performer.
HDPE Rod is great for wear resistance
HDPE Rod is very good for wear or abrasion resistance, in applications where the load is not huge; HDPE will resist wear very well. If you try and file HDPE Rod with all but the roughest files, the file just seems to slide across without removing any material.

Low friction HDPE rod
HDPE Rod also offers pretty low friction, which when used in bearings or rollers are always an advantage. HDPE is also pretty lightweight and a key feature which is universally recognised as the fact that its relatively inexpensive, which means that HDPE can save you money.
What are any disadvantages of HDPE Rod?
There are however some, what some may describe as drawbacks which may or may not come into play for certain applications and one of them is the fact hat HDPE Rod is very difficult to bond using adhesives. Although adhesive specialists advise us it can be bonded, they describe it as difficult at best and maybe the answer in this instance would be to weld HDPE using purpose designed welding equipment. A further drawback could be that its not the hardest engineering plastic, its not particularly soft but relative to some other plastics, HDPE Rod isn't the hardest. An indication would be that if you had strong nails and pressed really hard, you could cause a mark.

The potential drawbacks could also be described as advantages in applications where the lack of adhesion is what's required or where a component is required to almost sacrificial as in the case of a drift.

Food applications and HDPE Rod
HDPE Rod is often found in the food production environment as the natural grade is food compatible, it may be good for use as a rolling pin as food debris would find it difficult to adhere to the slightly waxy feel surface.

A quick round-up for HDPE Rod
So, if your looking for a material that is economical, has low friction and good abrasion resistance, is also easy to machine but doesn't involve extreme loads or high impact resistance, then HDPE Rod would probably be worth investigating further.
JG-HDPE PHYSICAL PROPERTY TABLE
Content/Feature/Property
Test method
Unit
Value





Mechanical property
Tensile strength
ISO 527-1, 2
Mpa
32
Bending strength
ISO 178
Mpa
Bending tensile stress
ISO 527
Mpa
30
Stretching strain at break
ISO 527
%
Tensile modules of elasticity
ISO 527
Mpa
900
Compressive stress under 1% and 2% normal strain
ISO 604
Mpa
3/-
Pendulum impact test
ISO 179/1eA
kj/m2
Rockwell hardness
HR


Physical property
Density
ISO 1183
g/cm3
0.96
Water absorption (23ºC water soak for 24 hours)
ISO 62
%
Coefficients of linear thermal expansion (23-100ºC average value)
m/(m.k)
155×10-6
Flammability (UL)
UL94
HB

Heat resistance
Melting point
ºC
130
Temperature resistance (continuous)
ºC
90
Temperature resistance (short time)
ºC
110


Insulating property
Dielectric strength
ISO 60243
kv/mm
50
Volume resistance
ISO 60093
Ω·cm
1O15
Surface resistance
ISO 60093
Ω
1O16
Relative permittivity -100HZ/1MHZ
ISO 60250
2.4/-



Chemical property
Acid resistance
+
Alkali resistance
+
Carbonation resistance
+
Aromatic compounds resistance
0
Ketone resistance
+

Other
Adhesion
+
Friction coefficient
0.3
Food contact
+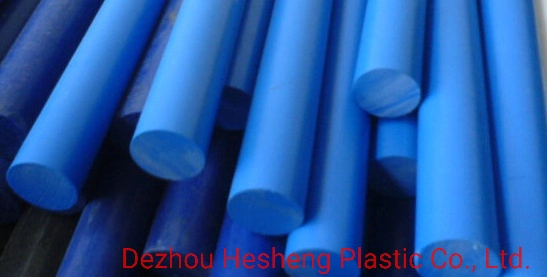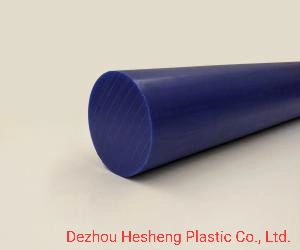 Please contact us if we can be of further assistance.

About Us
The HeSheng Story

Our story began in 2004. Back then the company founder Mr. Li was a salesman of UHMWPE-BOARD and PP BOARD for a private owner of a factory.

Today, we are priviliged to connect tens of thousands of clients from China to the globe. (like Japan, Singapore, Russia, USA, etc)

Our Products

We serve a wide range of products including UHMWPE-BOARD, PA BOARD, PVC BOARD and HDPE BOARD. All the products mentioned above are widely used in transportation, packaging, paper making, bin liners, port machinery, etc. It is our goal for all of the products to be grown under the highest standard of quality, using ethical sourcing practicies.

HeSheng Mission:

OUR MISSION: To serve the customer heart and soul.

Everything we do is about you. From the executive who will solve any of the promblems of yours instantly, to workers who work tirelessly to make sure you get the products in time. We strive to remain loyal to high-quality and your trust. We believe that step by step we can make a difference!

Certificates

Quality Management System Certificate issued by Beijing standard certification center.

Environment Management System Certificate issued by Beijing standard certification center.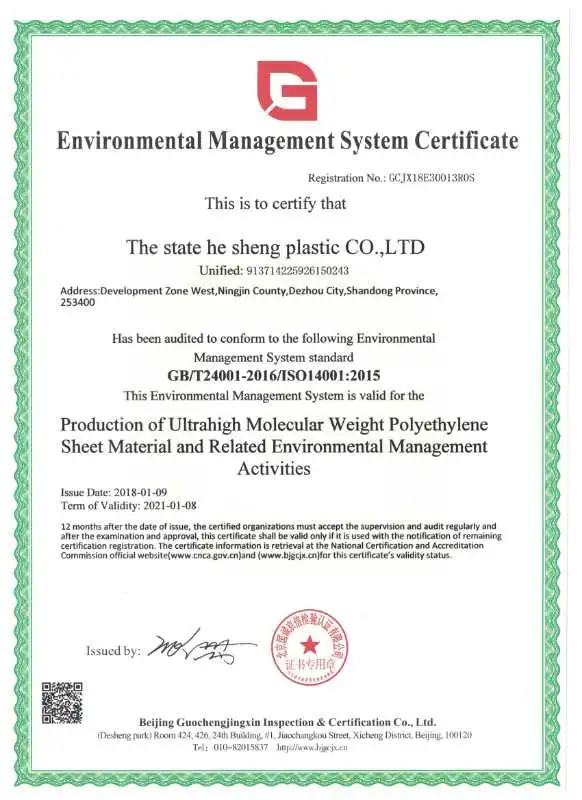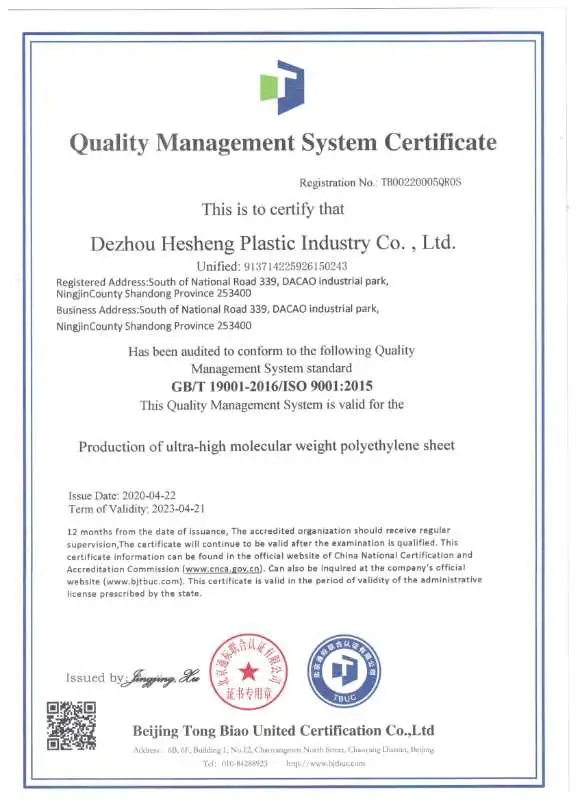 Global clients