engineering plastic nylon rack gear PA PA66 gear rack and pinion
Mc nylon means monomer casting nylon, is a kind of engineering plastics used in comprehensive industries, has been applied almost every industrial field.
The caprolactam monomer is first melted, and added catalyst, then poured it inside moulds at atmosphere pressure so as to shape in different castings, such as: Rod, plate, tube. The molecule weight of mc nylon can reach 70, 000-100, 000/mol, three times than PA6/PA66. Its mechanical properties are much higher than other nylon materials, such as: PA6/PA66. Mc nylon plays a more and more important role in the material list recommended by our country.
Since the end of 1980's, guangzhou engineering plastics industireis company has devoting herself on developing the technology of mc nylon modification, greatly extended the applications in different industries. Basing on the mc nylon, reinforced with variety of additives during the reaction, such as lubricant, molybdenum disulfide, graphite glass fiber, carbon fiber etc, to improve the properties, higher performance of wear-resistance, corrosion-resistance, self-lubrication, vibration-absorption, noise-absorption. At the same time, as the technics and structure of the moulds is quite simple, so that it can be manufactured in lower cost, becomes the ideal substitutes of bronze, stainless steel, babbitt alloy, PTFE and so on.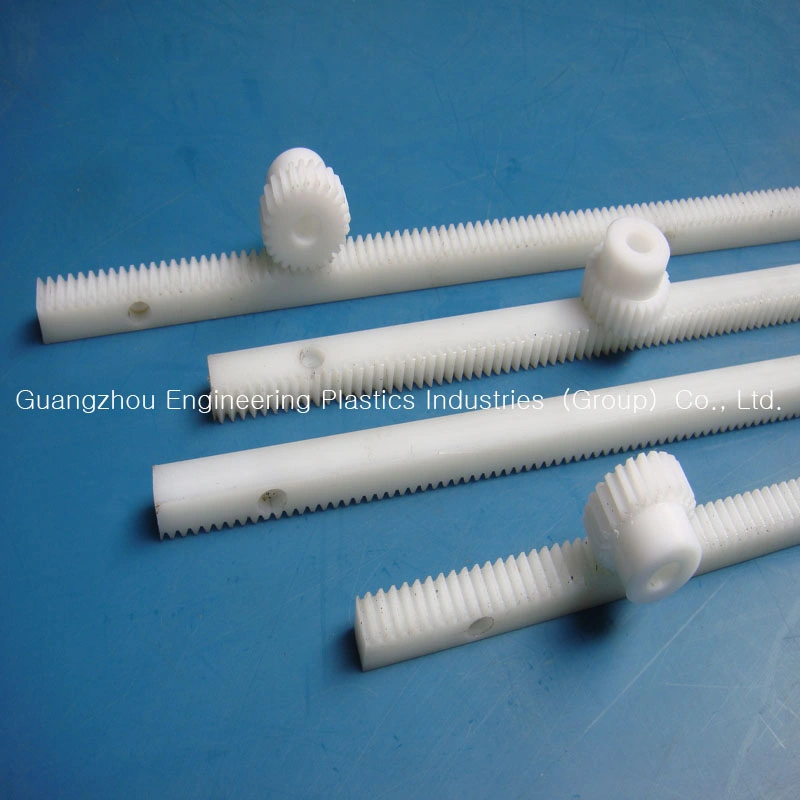 Oil nylon (green)
Oil nylon(green)is the new engineering plastics that developed by guangzhou engineering plastics industireis company in the later 1980's by importing the advanced technology from nylacast Co., Ltd, UK, was the first authentic lubricating nylon that builds the liquid lubricant system during the processing stage, which makes its coefficient of friction is 50% lower than the general PA6 or PA66, the wear-resistance is 10 times than the general ones. Oil nylon is specially developed for the parts of non-self-lubrication, heavy-loading and low-speed-running, which obviously resulted in a substantial increase in bearing life- 5 times that of general PA6 and 25 times that of phosphor bronze! The lubricant contained within the material will not drain, adsorb or dry out and never needs replenishment. The uniform distribution of the lubricant throughout the product guarantees the constant performance of the parts over the whole service life and improvements in rate of wear, sliding frictional properties, abrasion resistance and stick slip performance, which are just a few of the benefits offered by this material. Oil nylon has been successful in considerable enlarging the application of nylon in many industries and specifically for some un-lubricated running parts.
Other casting nylon:
Oil nylon + carbon (black)
Oil nylon added carbon, has the very compact and crystal structure, which is better than the general casting nylon in the performance of high mechanical strength, wear-resistance, anti-aging, UV resistance and so on. It is suitable for making the bearing and other wear mechanical parts.
Oil mc901(blue)
This improved mc nylon, has striking blue color, which is better than general PA6/PA66 in the performance of toughness, flexibility, fatigue-resistance and so on. It is the perfect material of gear, gear bar, transmission gear and so on.
Mc nylon + mso2(light black)
Mc nylon added mso2 can remain the impact-resistance and fatigue-resistance of casting nylon, as well as it can improve the loading capacity and wear-resistance. It has a wide application in making gear, bearing, planet gear, seal circle and so on.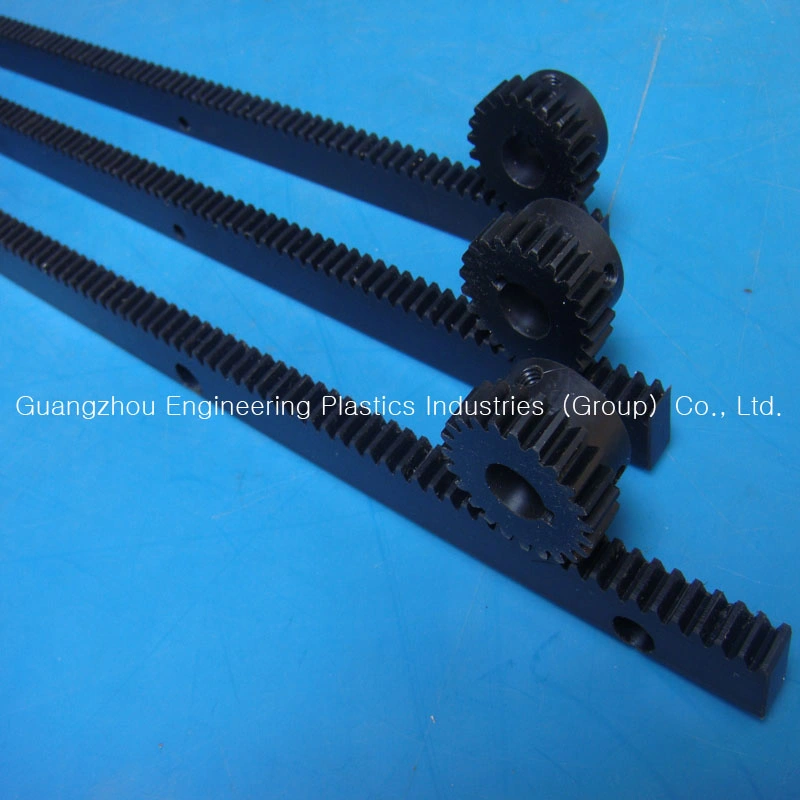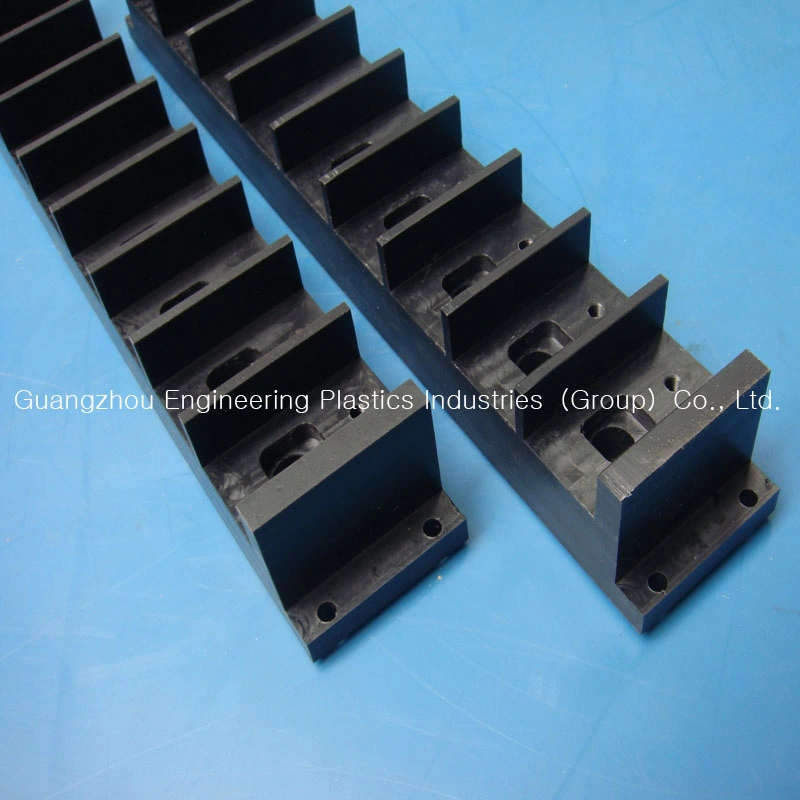 Nylon PA6 plastic gear rack and pinon property:
Property
Item No.
Unit
MC Nylon (Natural)
Oil Nylon+Carbon (Black)
Oil Nylon (Green)
MC90 (Blue)
MCNylon+MSO2(Light Black)
Mechanical Properties
1
Density
g/cm3
1.15
1.15
1.135
1.15
1.16
2
Water absorption (23ºCin air)
%
1.8-2.0
1.8-2.0
2
2.3
2.4
3
Tensile strength
MPa
89
75.3
70
81
78
4
Tensile strain at break
%
29
22.7
25
35
25
5
Compressive stress (at 2%nominal strain)
MPa
51
51
43
47
49
6
Charpy impact strength (unnotched)
KJ/m 2
No brak
No break
≥50
No BK
No break
7
Charpy impact strength (notched)
KJ/m 2
≥5.7
≥6.4
4
3.5
3.5
8
Tensile modulus of elasticity
MPa
3190
3130
3000
3200
3300
9
Ball indentation hardness
N/mm 2
164
150
145
160
160


10
Rockwell hardness
-
M88
M87
M82
M85
M84